Sale!
Complete Home Water Filtration Filter Change Kit
-20%
Revitalize Your Hydration: Jila Water Complete Home Filtration Filter Change Kit
Introduction: Elevate your water quality with the Jila Water Complete Home Filtration Filter Change Kit. Unveil the secret to consistently pure and refreshing water, ensuring your home remains a sanctuary of health and well-being.
Why Change Every 12 Months? Experience optimal filtration performance by changing your filters annually. Over time, sediment, impurities, and contaminants accumulate, compromising water quality. Regular replacement, featuring a 1Mu Sediment Filter, Water Softener filter, and a .5Mu Activated Carbon Filter, guarantees sustained purity, safeguarding your family's health.
Benefits of Jila Water:
Expertise Matters: Trust in the expertise of Jila Water, a professional company dedicated to revolutionizing your hydration experience.
Tailored Solutions: Our kits are meticulously curated to match your system's requirements, ensuring maximum effectiveness.
Uncompromised Quality: Jila Water filters are engineered with precision, utilizing cutting-edge technology to guarantee the purest water possible.
Peace of Mind: Rely on Jila Water's commitment to customer satisfaction – because your peace of mind is as essential as the water you drink.
Upgrade your home's water filtration system with Jila Water, where excellence flows with every drop. Order your Complete Home Filtration Filter Change Kit today for a future of pristine hydration.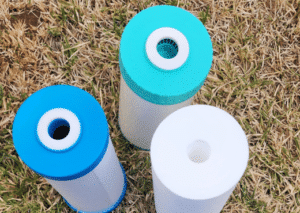 26 in stock
Only 26 items left in stock!
Additional information
| | |
| --- | --- |
| Weight | 3000 g |
| Dimensions | 35 × 12 × 26 cm |